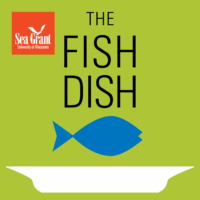 The Debut of The Fish Dish Podcast
Wisconsin Sea Grant is proud to be serving up its first episode of The Fish Dish podcast. When you listen to The Fish Dish, expect to gain fortifying doses of piscivore banter and access to delicious Wisconsin fish recipes.
In their debut Fish Dish conversation, co-hosts Sharon Moen, Eat Wisconsin Fish outreach specialist, and Marie Zhuikov, senior science communicator for Wis. Sea Grant, talk about Lake Superior commercial fisheries. The episode is accented with excerpts of a conversation Moen recently had with Craig Hoopman, one of a handful of Lake Superior's remaining commercial fisherman.
Fish Dish episodes will introduce you to the people behind Wisconsin's fishing and aquaculture industries. Each episode includes a "Fish-o-licious" section where Moen and Zhuikov cook a new fish recipe. In their first "Fish-o-licious" finale, Zhuikov and Moen cook Greek-style Lake Whitefish because it's a Hoopman family favorite. Music by Twin Ports band Woodblind ties the podcast together.