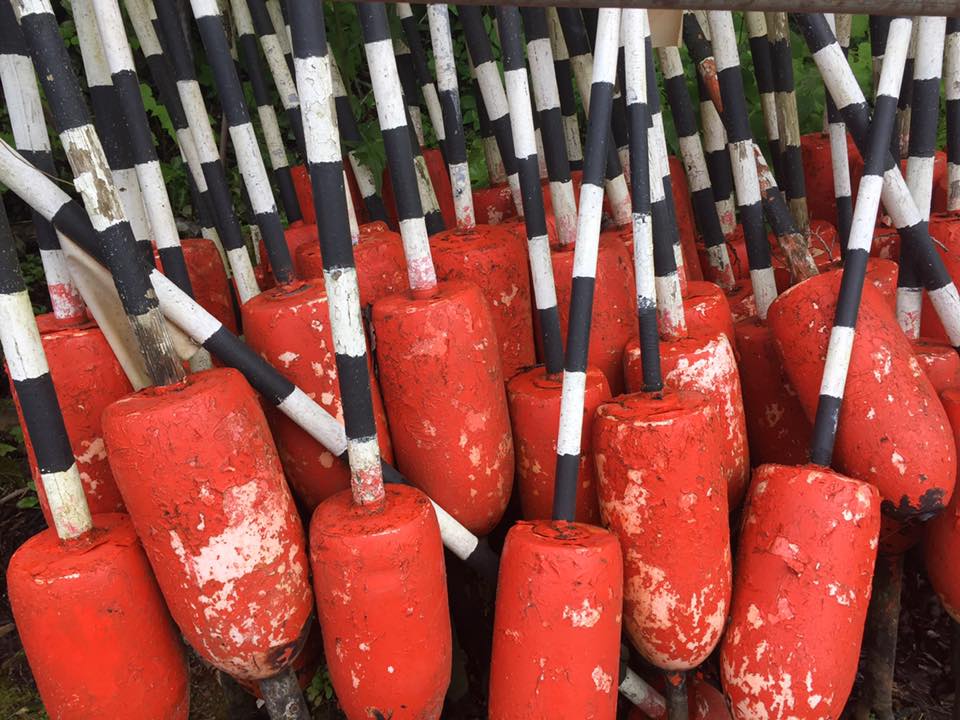 Throwback to 2017 at Baileys Harbor commercial fishery
Years before COVID-19 brought normal activities to a screeching halt, Wisconsin Sea Grant's Marie Zhuikov visited Baileys Harbor Fish Company. Despite time and the pall of the pandemic, this story still resonates. 
Commercial fishing business spans four family generations
'We're Working for the Guy Standing Next to Us'
by Marie Zhuikov, Senior Science Communicator, first published in 2017
In this era of faceless corporations and bureaucratic organizations, it's refreshing to stumble across a family-run business where the workers don't track their hours. That's what happened to myself and several other Wisconsin Sea Grant communicators when we visited Baileys Harbor Fish Company in Door County, Wisconsin.
We made the trip because we wanted to learn more about commercial fishing on Lake Michigan. Along the way, we gained insight into the dedication of the Hickey Family to their chosen vocation and to each other.
The business began when Dennis and Jeff Hickey's grandfather started fishing from Baileys Harbor in the 19th century. Their father fished the lake, and now Dennis's daughter Carin and her husband Todd Stuth are coming to the forefront in the business since the Hickey Brothers are easing into retirement.
We spoke with Tate Stuth, Todd's brother. Don't be frustrated by trying to keep track of all the relationships. That's just the nature of this particular business, which is made up of relatives and their friends.
Stuth … has been working during summers for the company since he was 12. Not long out of college with an economics degree, Stuth now works full-time, taking care of the fish market. On a typical day, he opens the store in the morning, starts smoking fish in the new, computerized smokehouse, and then writes invoices for local restaurants that they supply with fish.
Since the fish market opened <in 2015>, this is the first summer Stuth hasn't had to also staff the counter out front. His niece, Isabella, now helps the customers who want to buy fish.
Stuth said the business operates two fishing boats that ply the waters of Green Bay. This part of the operation is managed by friends Jack Tong and Mike Warwick. Their catch is mostly whitefish, although they also have a small quota for yellow perch. In fall, they collect golden whitefish caviar, which is exported to Sweden. A Saturday farm market is run by Carin and Jack's wife.
"The biggest thing we're pushing for is a sustainable stock so that generations to come can also fish," Stuth said. "We've diversified because the amount of species that can be commercially harvested in this area has dwindled immensely."
Part of that diversification is the help they give federal and state agencies out West to remove invasive fish from lakes and restore native species. Stuth explained that they build boats, supply gear, or provide manpower in Idaho, Wyoming and Montana where agencies are working to remove lake trout and walleye in order to restore native trout and salmon. This is managed by Todd and friend Steve Warwick (Mike's brother).
The company also makes nets and processes fish for charter customers. "We fillet them, vacuum-pack and freeze them in portion packages to take home. We can also smoke their fish," Stuth said.
With a fifth generation of workers growing up, Baileys Harbor Fish Company seems like a smart operation. "Everyone who works here cares about the business," said Stuth. "We don't pay attention to the hours that we work. We do it for the guy on our left and the guy on our right, and that's the biggest thing."
Find out more about Baileys Harbor Fish Company online: https://www.baileysharborfishcompany.com/about-us