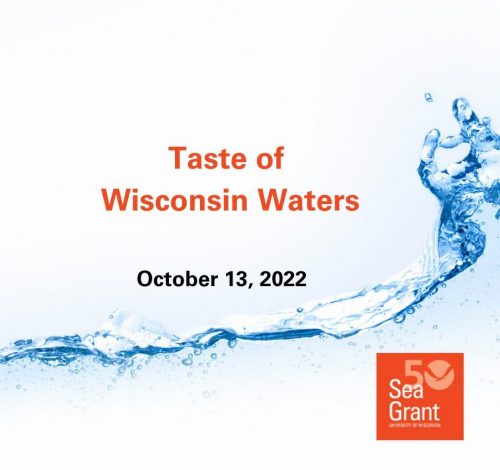 Taste of Wisconsin Waters
The Taste of Wisconsin Waters is an after-work event being held on October 13, 2022, at The Tinsmith in Madison, Wisconsin, from 4:30-6:30 pm. The main purpose of the event is to showcase the science, policy and people of Wisconsin bringing fish, aquatic produce and water to our tables. Taste of Wisconsin Waters is hosted by Wisconsin Sea Grant, one of 34 university-based programs in the National Oceanic and Atmospheric Administration's (NOAA) Sea Grant network*.
Highlights include:
You be the judge:

Wisconsin water bar — sample water from around the state and vote for your favorite.
Fish spread tasting table — compare fish spreads from different fish markets and vote for your favorite.

Opportunities to network with policy makers, chefs, scientists, commercial fishers, fish farmers
Conversations with Wisconsin food-fish producers, aquatic scientists and water policy professionals
Water-centric appetizers (fish, caviar, cranberries, wild rice)
Door prizes
Cash Bar
Event sponsor: Superior Fresh
Event contributors: Henriksen Fisheries, Baileys Harbor Fish Company, Plymouth Springs Fish Company, Dan's Fish, Inc. and Seafood International, Bartling's Manitowish Cranberry Co.
The Tinsmith is located at 828 E. Main St. in Madison, just 1 mile east of the Capitol.
The event is free but by-invitation-only. Registration is limited to the first 150 respondents. Invitations were sent out on September 8, 2022.
If you would like an invitation to this event or future events like this, please send an email to smoen@aqua.wisc.edu.
Wisconsin Sea Grant is committed to creating an inclusive and accessible event. If you need an accommodation to attend this event, please contact Sharon Moen at smoen@aqua.wisc.edu or 218-591-2568. All reasonable accommodation requests should be made no less than 2 weeks before the event. We will attempt to fulfill requests made after this date, but cannot guarantee they will be met.
*The National Sea Grant College program was established by the U.S. Congress in 1966 and works to create and maintain a healthy coastal environment and economy. The Sea Grant network consists of a federal/university partnership between the National Oceanic and Atmospheric Administration (NOAA) and 34 university-based programs in every coastal and Great Lakes state, Puerto Rico, and Guam. The network draws on the expertise of more than 3,000 scientists, engineers, public outreach experts, educators and students to help citizens better understand, conserve and utilize America's coastal resources.