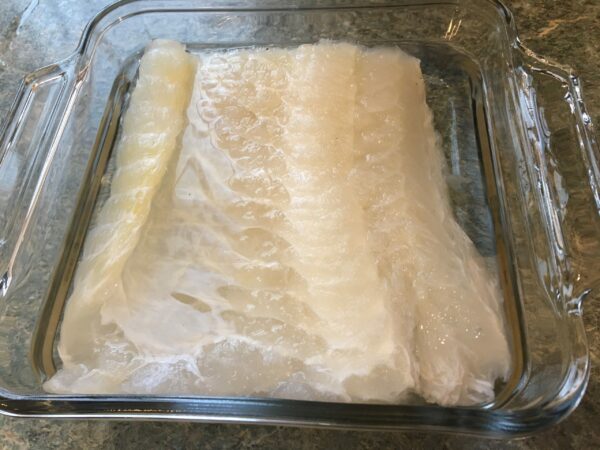 A Fish-o-licious Recipe for Lutefisk
The 2021/22 holiday episode of The Fish Dish podcast involves the preparation and eating of reconstituted dried fish that has been preserved with lye … a.k.a. lutefisk. Join the podcast hosts Marie Zhuikov and Sharon Moen as they visit Port Wing, Wis., and experience home-cooked lutefisk, a holiday classic for Scandinavian-Americans and others. One way to prepare lutefisk is to bake it in the oven and then douse it with cream sauce. Some people prefer boiling lutefisk and drenching it in melted butter. 
Listen to The Lutefisk Wars!: https://www.seagrant.wisc.edu/audio/the-fish-dish/
---
Try your hand at making Lutefisk with Cream Sauce (Serves 4):
2 lbs. lutefisk

2 tablespoons melted butter

2 tablespoons flour

1 cup of cream

Salt to taste

Pepper to taste
Lutefisk preparation: Soak the lutefisk for about an hour in fresh water. Change the water halfway through. Heat oven to 375°F. Place lutefisk skin side down in glass baking dish. Salt lightly. Place aluminum foil over the dish and seal. Bake 20 to 35 minutes, until fish flakes. Timing depends on fish thickness. 
Cream sauce preparation: In a sauce pan, melt butter and stir in the flour until well blended. Add cream and blend well. Heat to boiling then turn heat down and simmer for 2 minutes. Add salt and pepper to taste. Serve over lutefisk. (Alternative: Serve melted butter over lutefisk.)